Kamer
Deze stijlvolle bed and breakfast is geschikt voor maximaal 2 personen. Op de begane grond bevindt zich de slaapkamer met voldoende opbergruimte en een compacte, maar luxe ingerichte privébadkamer.
Lounge
Een ruime kamer met veel mogelijkheden. Een potje tafelvoetballen, darten, TV kijken of lekker op de bank een tijdschrift lezen. Voor de gamers is er een Playstation 5 beschikbaar. Hier kan een eventuele derde slaapplek worden gecreëerd.
De privébioscoop is een echte aanrader voor de filmliefhebbers onder ons. Hier kun je genieten van de nieuwste films in een sfeervolle setting met je partner of vrienden. Of je nu op zoek bent naar een romantische film of gewoon een leuke avond wilt hebben met een groep, de Be-B bioscoop biedt het allemaal.
Wellness
Tijdens het verblijf in Be-B kun je gebruik maken van verschillende wellness faciliteiten. Ontspannen in de infraroodsauna, jacuzzi en eventueel een massage. 
'Een pareltje van een B&B'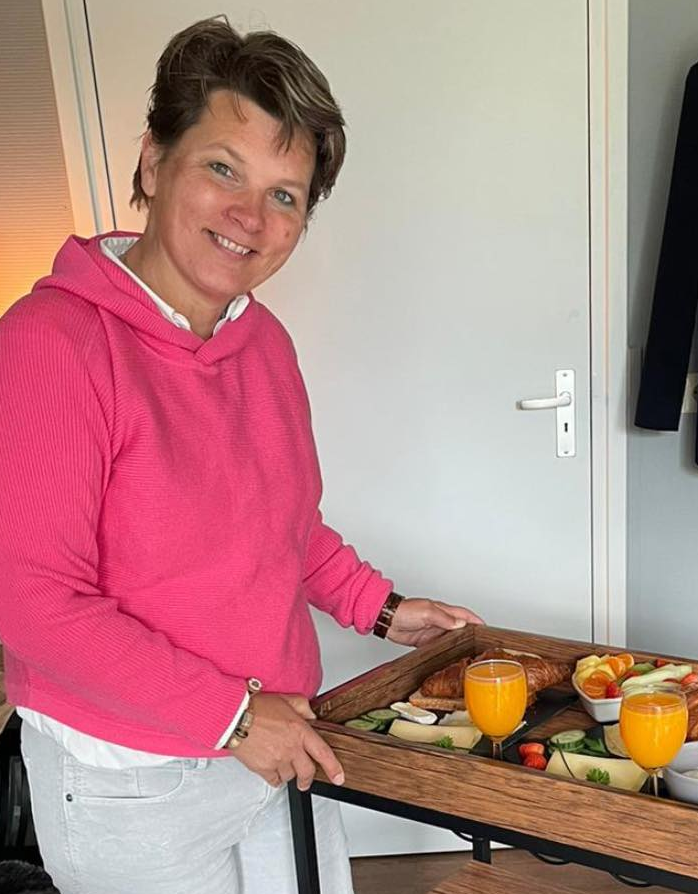 Wees welkom bij Be-B, de plek waar positieve energie en enthousiasme samenkomen voor een onvergetelijke ervaring! Sinds de opening van de deuren heb ik zoveel geweldige mensen ontmoet en heb ik de kans gehad om mijn ruime ervaring met jullie te delen. En geloof me, er is hier voor ieder wat wils! Bij aankomst kun je rekenen op een warm en persoonlijk welkom. Er is de tijd om alles met je door te nemen, zodat jouw verblijf helemaal naar wens is. Ik trakteer je op een overheerlijk ontbijt met bijzondere streekproducten die je smaakpapillen zullen verrassen. De dag kan niet beter beginnen! Maar dat is nog niet alles. Wageningen en haar omgeving hebben zoveel te bieden en ik sta te popelen om je alles te vertellen. Of je nu op zoek bent naar avontuur in de natuur, culinaire hoogstandjes wilt ontdekken, of gewoon wilt genieten van de levendige sfeer van de stad, ik heb talloze tips en inside informatie om je verblijf nog specialer te maken.